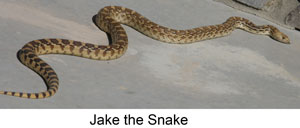 Jake the Snake has returned. For those of you who do not know about Jake – he showed up on our screened-in patio last summer.
He was no larger than a big earthworm – a definite newbie. My husband named him "Jake the Snake".
He disappeared for a while, and when he returned, he was not even one foot long. The dogs and cat were not happy with his presence – so I told him to relocate to the front patio where no one would bother him. He did…for a while.
I came outside one day, while on the phone, to discover my cat having a powder-puff fight with a snake. Jake had grown again, and the cat and snake were fighting over the patio.
I put my phone down, and went to Jake. I scolded him, shaking my finger in his face, and told him it was too dangerous for him to be in the back. He quickly headed out of the fenced-in back yard and went to the front of the house. That was last summer.
We had not seen him again, until today.
He is about 3 1/2 to 4 foot long, and approx. 1 1/2 thick.  And he was trying to bully his way past the cat to get  back on the patio. A half hour later, I finally convinced him to leave. He left the yard, and I thought my point had been made – only to discover that he had snuck back in and was waiting for his chance. He was curled up in a tight ball in the corner of the fence.
We went at it again. Not only did he grow larger, he has become very obstinate! Argh.
According to Ted Andrews in "Animal-Speak: The Spiritual & Magical Powers of Creatures Great & Small",[ (c) 1993, Llewellyn Publications. ISBN 0-87542-028-1] – the snake totem represents "Rebirth, Resurrection, Initiation, and Wisdom".
Andrews book – which is well worn, and well used – is kept on hand in our house, and whenever we come across an animal, we usually stop and look up the totem meaning to see what message or messages the animal has brought to us.
Review and photo by Jan Toomer
---