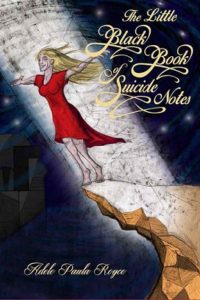 The Little Black Book of Suicide Notes by Adele Paula Royce. Live Your Light Publishing; February 14, 2017. ISBN: 978-0-9981790-0-1
Received an ARC for an honest review.
I was hesitant to read The Little Book Black Book of Suicide Notes at first. Why? Not only because of the taboo society has placed on suicide, but also my daughter had committed suicide.
Curiosity won out. I read it and am glad I did.
The Little Black Book of Suicide Notes is semi-fictional, the first in a trilogy, and multi-layered. Yes, it is a book about one thinking of suicide, but it isn't as simple as that. It provides glimpses into the thoughts, feelings – in some instances, inability to feel – and observations on life, with touches of humor interwoven.
It's a book that shows the possible inner sanctum behind the functioning societal-imposed facade of one contemplating suicide.
It's about the hypocrisy that surrounds us and, through these musings, shows us how it might lend to hopelessness.
And, as odd as it may sound, I found the sense of raw honesty contained within its pages to be captivating, refreshing, thought-provoking, and yes, uplifting and inspirational.
Reviewed by Jan Toomer
National Suicide Prevention Lifeline
Call 1-800-273-8255
Available 24 hours everyday
http://suicidepreventionlifeline.org/
Crisis Text Line
Free Text Connect
https://www.crisistextline.org/
---