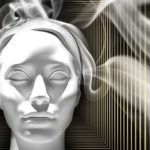 In August we took a look at an example of a ripple effect caused by thinking about someone else, and how that other person may pick up on it. Thinking Beyond 3D
We've also touched on telepathy (mental communication) over the years.
Can we take that further? Yes.
I was recently on the phone with a friend. I told him that we talk daily; that we have great conversations, though it's only in my head.
I also said the conversations were out and about (in the ether-net) so he can pick up on them if he wanted.
He replied that he hadn't known that, but now that he did, he would seek out and tune into that frequency to "hear" (and/or participate) on a conscious level.
Can he do that? Absolutely!
So can you.
Are There Restrictions?
I'm not talking about tuning into others private conversations, but you can have your own mental communications. It is rude to listen in, eves-drop or tune into other people's private conversations.
We are not restricted to our challenging and limited verbal, written and signed languages.
When utilizing telepathy, even foreign languages are not a barrier.
We are, however, restricted by any self-limiting beliefs and any restrictions in one's soul plan.
Just like any new (or re-learned) skill, it takes practice. I recommend shielding first; keep your energy up and clear.
I have conversations with friends that I do not regularly see or talk with on the phone; it doesn't matter if they live nearby, are hundreds of miles away or on the opposite side of the globe.
Practicing
You can set up practice time with someone who is game. The following example is learning and practicing conscious telepathy.
Set up an appointment time for the two of you to practice.
As the appointment time approaches, shield and/or clean your energy.
Relax (can close eyes if you wish), and "talk" in your head to one another.
Take notes so you can compare conversations.
Don't get flustered; you may have two totally different conversations. The conversations will be in accordance with what if forefront in each person's mind.
When you compare, you can ask each other if their perceived responses were what they would've said in a personal verbal conversation. Be honest.
This exercise is to practice the art of mental communication. It may not be consciously available to everyone yet (it depends on each person's individualized soul growth plan and belief-systems). If one practice partner says they don't "hear" (sense/feel/know) anything after several practice sessions, perhaps you aren't able to match frequencies yet. You each may want to try another practice partner.
Related Articles:
Shielding Techniques
Thinking Beyond 3D
Becoming One Reality – Part Two
Bridging the Communication Gap
3rd Dimension Communication Can Lead to Misunderstandings & Miscommunications
Your Meta Questions – March 2014
Energy Update – May 16, 2014
The Universe Takes Everything Literal
Humans – Animals
Darn Auto-Correct
Mental Intrusion
Metaphysical Shorthand
by Jan Toomer
---