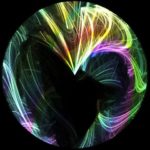 Flipped A Switch
The energy made a major shift overnight between Monday and Tuesday, like someone flipped a switch. Some folks reported waking up feeling lighter and more peaceful.
On Tuesday morning, I wrote:
"The energy in, and around, me shifted. The energy felt so much lighter and contained joy; a joy that radiated from inside me, outwards. And this was accompanied by a beautiful, soul deep peace – a peace I hadn't felt since I'd become 'Jan' (in this lifetime)."
The past week has brought a very healthy appetite – needing extra sustenance for the body to support us through this shift. And sleep needs seem to increase during these times as well.
This morning:
"My energy field looks brighter than I have ever seen it on this plane. I feel more complete; fuller; and stronger."
Upcoming
We will be coming up to making some decisions soon. I am not sure what all these decisions will entail (they will be unique to each of us), but what we are feeling now should aid us (by being more objective and supported energetically) in making that, or those decisions.
by Jan Toomer
---